Community Involvement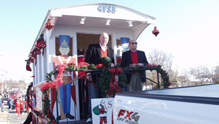 Springfield Christmas Parade
The VSB Christmas Trolley occupied the number one position in the Christmas parade held last Saturday November 17 in Springfield, TN. The trolley carried the Grand Marshalls who consisted of Patty Dunn, local resident, Billy Paul Carneal, Mayor of Springfield and Howard Bradley, County Mayor of Robertson County. Other riders included Bob Bibb, member of VSB Board of Directors and VSB employees Joe Dorris, Kris Fisher, Chance Barron, Susan Hester, Mary Bennett and Terry Durham. Photo-L to R: Howard Bradley and Billy Paul Carneal.
Back to Top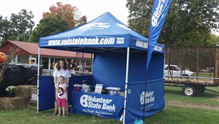 October in Orlinda
Volunteer State Bank was a major sponsor for the 6th annual "October in Orlinda" celebration held on Saturday October 13 at the city park in Orlinda, Tennessee. This was the first event where we show cased our new custom tent and sign.
Photo L to R: Mary Bennett (VSB employee – Orlinda Branch) and her daughter Kendall.
Back to Top