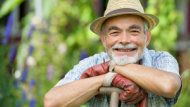 Our History
In 1972, Fred White, a local merchant and Larry Collins, a local building contractor, saw the need for another bank in the small but growing town of Portland, Tennessee. They needed an individual who knew the community and had an extensive background in commercial banking. They approached Wayne Lamberth with the idea for a new bank and he joined the team. These three gentlemen worked diligently in a small rented office behind Mr. White's grocery store. They were soon joined by others who saw the possibilities of the new bank.
The additional organizers and signers of the application for the bank charter were Bob Culbreath, Robert Shannon, Paul Freeman, James Ladd, W.P. Stovall, Paul West, T.W. Denton, James Neal, Malvern Rahrer, E.N. Jones, Bob Simpson, O.M. Moore, Jack Smith, Ferrell Webb, Gary Collins, Roy Drusky, Willard Chandler and Dan Jenkins.
In preparation for the new bank, stockholders were solicited and land was purchased at the corner of Broadway and Market Street. On April 2, 1974, an application was filed to organize a State Bank named Bank of Portland. At that time, temporary officers were elected. Wayne Lamberth would serve as President, Fred White as Executive Vice President, Larry Collins, Chairman of the Board of Directors and Bob Culbreath, Secretary.
The first meeting of the stockholders was held on January 17, 1977. The charter and bylaws were approved and the following board members were elected: Larry Collins, Fred White, Wayne Lamberth, Paul Freeman, T.W. Denton, Bob Culbreath and Norman Lane.
The Bank of Portland opened for business on April 15, 1977.
In 1979, John Garrott and Noel Martin were appointed to the Board of Directors.
With the fast growth of the bank, plans were made to build a branch bank in Gallatin. On May 15, 1980 Volunteer State Bank, a branch of the Bank of Portland, opened on Nashville Pike in Gallatin.
In July 1981, stockholders voted to change the name from Bank of Portland to Volunteer State Bank. The name change became effective on January 1, 1982.
VSB continued its growth with the purchase of the Bank of Hendersonville in 1983 and the Bank of Orlinda in 1986.
Further expanding into Robertson County, Volunteer State Bank opened a branch in Springfield in 1987.
The White House branch was acquired from First Union in 1996.
The Portland Branch of Volunteer State Bank relocated from its original location in April 2004. The new 30,000 square foot building houses the main office, bookkeeping, loan department and the administrative offices.
The New Shackle Island Branch opened for business on January 4, 2007, and shortly after that the Goodlettsville Branch celebrated its grand opening on April 4, 2008.
The original Hendersonville Branch was relocated to a two story bank complex in May 2010.
The newest branch, Greensboro Village, celebrated a "Grand Opening" on April 15, 2011. This branch is located across the street from Volunteer State Community College.
Volunteer State Bank has seven branch locations in Sumner County and two branch locations in Robertson County.
Currently serving on the Board of Directors: Jeff Collins, Chairman of the Board, Matt Ricker, Bob Bibb, Tim Ferguson, Wendell Mandrell, Luther McDaniel, Mike McDonald, Buddy Shaw and Jaska Russell.
View Financial Information of Volunteer State Bank (FDIC #22451)