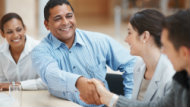 Investment Services
INVEST Financial Corporation offers investment options and financial planning that can provide long-term security for you and your family. Whether you want to save for your child's education, plan for your retirement or build wealth, we can help you reach your financial goals.
We offer:
Mutual funds

Annuities

Retirement planning

Education funding

Estate planning

Trust services
For an appointment, contact INVEST representative Chris Carroll. He can be reached at (615) 264-8512, christopher.carroll@investfinancial.com or visit him at Volunteer State Bank, 323 East Main Street, Hendersonville, TN 37075.
INVEST Financial Corporation (INVEST), member FINRA, SIPC, a registered broker/dealer and registered investment advisor, is not affiliated with Volunteer State Bank. Securities, advisory services and insurance products are offered through INVEST and its insurance agencies are:
NOT FDIC INSURED

MAY LOSE VALUE

NO BANK GUARANTEE
Important Customer Information
This site is for informational purposes only and is not intended to be a solicitation or offering of any security and; 1. Representatives of a broker-dealer ("BD") or investment advisor ("IA") may only conduct business in a state if the representatives and the BD or IA they represent (a) satisfy the qualification requirements of, and are approved to do business by, the state; or (b) are excluded or exempted from the state's licensure requirements. 2. Representatives of a BD or IA are deemed to conduct business in a state to the extent that they provide individualized responses to investor inquiries that involve (a) effecting, or attempting to effect, transactions in securities; or (b) rendering personalized investment advice for compensation.
INVEST Financial Corporation's Privacy Policy [PDF]
If you would like to receive more information or discuss an investment strategy to meet your goals, just give us a call at (615) 264-8512.
Note: We do not recommend a particular mutual fund, nor guarantee that any mutual fund will achieve its investment objective. Mutual funds are not deposits and are not insured or guaranteed by the FDIC, or any other government agency. An investment in mutual funds involves investment risks including the possible loss of the principal amount invested. Always ask for a prospectus and read it carefully before you invest in any mutual fund.