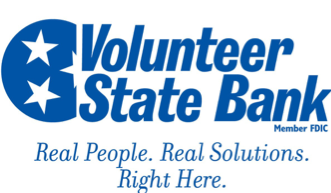 A message from Mike Baggett, President of Volunteer State Bank
In response to the guidance given by the State of Tennessee, Volunteer State Bank will provide drive-thru service only at all locations beginning Wednesday, July 8, 2020.
The drive-thru can handle most any need that you may have. However, we realize that some needs cannot be accommodated in the drive-thru, and for those branches that do not have a drive-thru, we will still offer access to the lobby by appointment. Simply call your local branch office to schedule an appointment. A list of locations and phone numbers can be found at www.volstatebank.com/about-us/locations-hours.html.
We apologize for the inconvenience, but hope this measure will help reduce the impact of the COVID-19 virus. Thank you for your understanding!